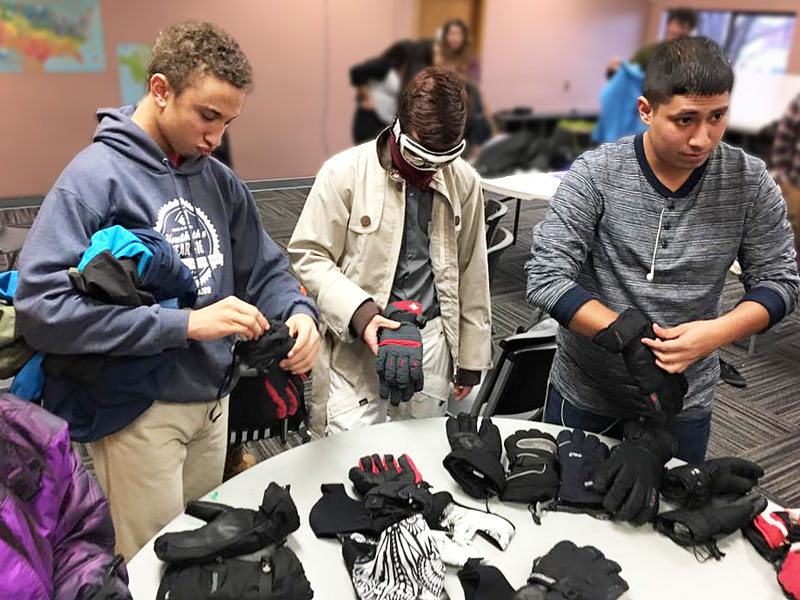 Members of the Boys & Girls Clubs of Benton and Franklin Counties try on gloves and other winter sports gear provided by Skyline Adventures.
WHAT WE DO
Skyline Adventures is a local nonprofit 501(c)(3) outreach program staffed by volunteers and based in Dayton, Wash. Our goal is to bring winter skiing and snowboarding at Bluewood to young people who lack opportunity, are less fortunate or have special needs.
Over the past three years, Skyline Adventures has provided winter sports scholarships to 444 young people and 26 healing veterans. As part of the package, they received lift tickets, professional instruction, rental equipment and lunches at Bluewood.
Skyline Adventures also provided warm clothes to those who needed them.
And we've hosted 1,199 Special Olympics athletes free of charge.
Skyline Adventures serves numerous organizations in Oregon and Eastern Washington, including:
WHY WE DO IT
Along with being fun, these outdoor sports teach courage, discipline, wisdom and humility—skills that will serve the young people and our regional area well for many years to come.
The mission is to transform lives through outdoor sports.
To help accomplish this, Skyline Adventures mentors:
Coach youth to improve sports abilities.
Show the kids that they're valued.
Teach social skills.
PARTNER WITH US
Our heartfelt gratitude to our financial partners, volunteers, and all those who donate to help Skyline Adventures provide outdoor sports opportunities.
Financial partners include:
Individual donors of $1,000 or more include:
Mr. & Mrs. Darrel Otness
Reade Obern
Al Pogue
Greg Crawford
Thank you to those with donations of any amount!
In-kind partners include:
We invite you to join with these Skyline Adventures partners. Contact us for more information. As you choose to support this outreach, we pledge to use your funds to make a mountain of difference in the lives of young people. Thank you for being part of Skyline Adventures!
Sincerely,
THE SKYLINE ADVENTURES BOARD OF DIRECTORS
Bill Pogue, President
Mike Stephenson, Vice President
Kim Clark
Kirk Bair
Loree Chase-Waite