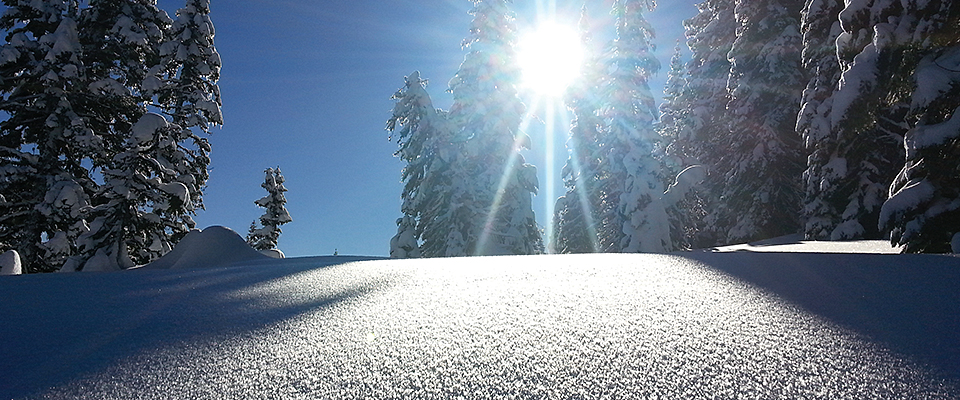 A satisfying day spent volunteering
I participated as a volunteer to assist with the veterans ski/board day. Three of us from the Tri-Cities car pooled to Bluewood early to meet our group of vets from the hospital in Walla Walla. We had no knowledge of the disabilities our vets might possess.
On the way, we discussed our unknown expectation and agreed that even with our vastly different backgrounds, we all possessed people and communication skills.
The day progressed as scheduled. I was paired with a skier who was 100 percent disabled due to vision/perception problems and half lung power. His motor skills were quite good, but his total lack of depth perception and inability to interpret the terrain made skiing tenuous.
By midday, I determined that a visible tree line and a skier to follow allowed him to respond and anticipate the [vagaries] of the hill. By the end of the day he was making linked turns on an intermediate slope with comfort and at a reasonable speed. I was as thrilled as he was!
I look forward to spending another day on the slopes with these deserving and appreciated vets. With Bluewood picking up lunch and a pass, my total expense for the day was half a tank of gas split three ways. I found it to be an immensely satisfying day on the slopes with delightful company.
Charles Keiser
USAF veteran and VFW member

The experience helps kids dream again
Twenty-nine people recently came up to Bluewood for a day of skiing and fun thanks to the generosity of Bluewood. Of those 29 people, we had 16 at-risk youth, many of whom had never been skiing before and lack the capacity to do something of that nature.
One mentor brought along two brothers who had never skied before. The younger brother struggled to get the hang of it while the older brother was committed to learn and enjoy the moment. He spent all day on the bunny hill, and his mentor was exhausted. The mentor came in to rest for a while, and the [older brother] decided to go on the chairlift with another mentor.
His first time on the chairlift and first time down the big hill will be etched in his mind for the rest of his life. He loved every second of the experience. When he got back to town he could not wait to tell his mom about how awesome it truly was.
His younger brother witnessed the love of his older brother and now wants to give it another shot.
These boys come from a single parent home and live in a very small apartment. Mom works six days a week to provide. They would never have an opportunity like this had it not been for the generosity of Bluewood staff. The boys needed helmets, gloves, pants, googles and lessons. All of that was provided so they could have an experience they will never forget.
Thank you for your generosity and willingness to help kids have experiences that have potential to reshape their lives and help them dream again.
Debbie Rodger
Mentor Support
Ignite Youth Mentoring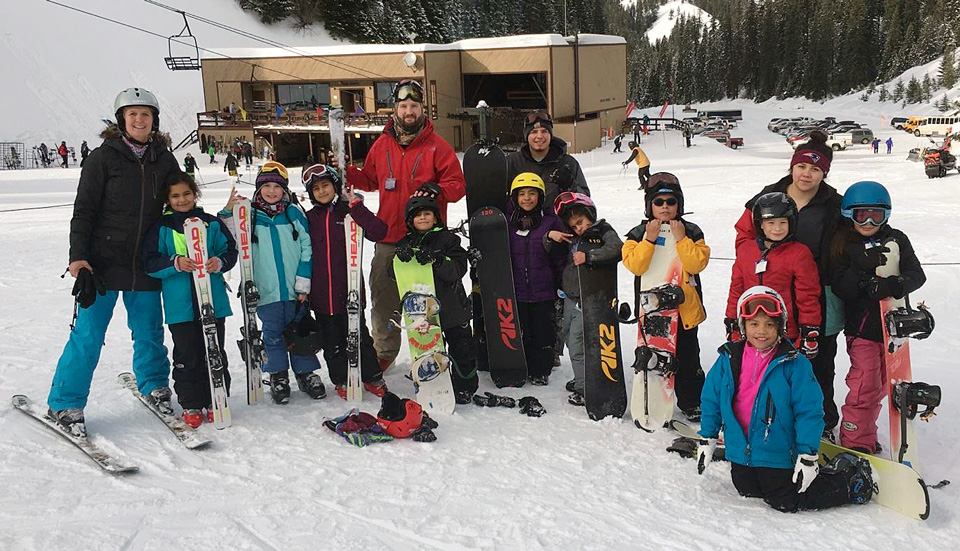 Best day of my life
All 10 of our students had never been skiing or boarding before, and for nearly all they likely could not have for financial reasons. Your program provided them the opportunity to experience something special.
Our experience started at the Bluewood office in downtown Dayton on a sunny Friday morning. Our group consisted of 10 students, grades 3 to 5, all of whom had never been skiing or snowboarding before. Most did not have adequate clothes for the experience—thus, our meeting with Bill Pogue at the Dayton office. He equipped the students with all necessary clothes and helmets from his closet of items that had been donated by generous people and businesses.
Once on the mountain, the kids were fitted with their rental gear by the Bluewood staff. Once equipped, they headed up to the lesson area. Our school staff was very impressed with the instructors, and you could see the growth happening right in front of us.
After the lesson, the students went over to the rope pull for a few minutes before lunch. Our lunch consisted of a hot dog, chips, apple and water. The students loved the hot dogs and left with bellies full, wanting to head back out.
After lunch we had about an hour left on the mountain, so all of the students went back to the rope pull. They loved it. None of them wanted to leave. It was an amazing day.
I overheard one of our fifth-grade students say in the van on the way home, "This was the best day of my life."
We truly appreciate your program getting our students up on the mountain, and Sporthaus for providing the clothing—creating a special day for students at Nueva Esperanza Leadership Academy.
Eric Sobotta, Principal
Nueva Esperanza Leadership Academy
You made an old vet feel like a kid
I came snowboarding with a group from the VA. I am writing to express my greatest gratitude toward you and the Bluewood staff. I haven't been snowboarding since 2000-2001. Having the chance to get back on the mountain and shred it was amazing.
Thank you for hooking up the decks, skis, boots, jackets, gloves, pants and pretty much all the gear to be able to have this experience! You guys were all great and have made an old vet feel like a kid again.
I am truly and sincerely grateful. Thank you! It was an awesome and rad experience.
Sincerely,
Jerald William Reichel

They're falling in love with the mountain
Every year our Walla Walla YMCA takes a group of teens (part of our Community Center for Youth program) to Bluewood so they can learn to ski/snowboard–thanks to the partnership and support from Bluewood and their community outreach team.
Many of these youth would never have had the opportunity to learn these sports. But through the generosity of Bluewood in providing not only lessons, rentals and lift tickets but also lunch and ski clothes, we are able to open the eyes of our Walla Walla Valley teens year after year and watch them fall in love with the mountain.
Kerstin Fenton
Walla Walla YMCA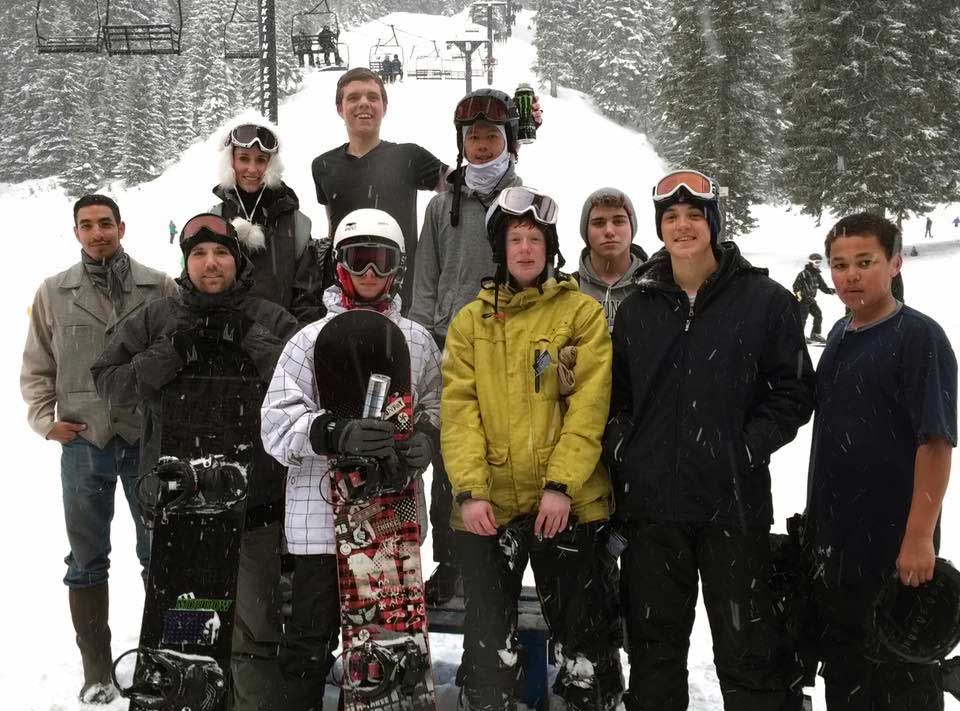 We can't begin to tell you how much this means to us
Thank you so much for giving Jubilee Leadership Academy this opportunity to ski at Bluewood. We are a nonprofit organization for troubled teen boys. My husband and I lead the activities department. Our job consists of keeping the boys busy and creating relationships with them.
Last year we were given the opportunity to ski/snowboard at Bluewood, and it was truly an ice breaker for some kids that had been dealing with difficult seasons in their lives. Doing something fun and new with us opened up some great conversations and sparked relationships that will last a lifetime.
Our budget for activities is low and we would not have been able to go Bluewood again if it wasn't for your generosity and support. We were able to bring eight boys. We had three skiers and five snowboarders.
The boys also enjoy the friendly staff at Bluewood. They are so great with them–patient and helpful. We can't begin to tell you how much this means to us and the kids. They can't wait to go again!
Sincerely,
The boys of Jubilee and Jeff and Ashley Umbarger
Jubilee Leadership Academy